UVC LED Sterilizer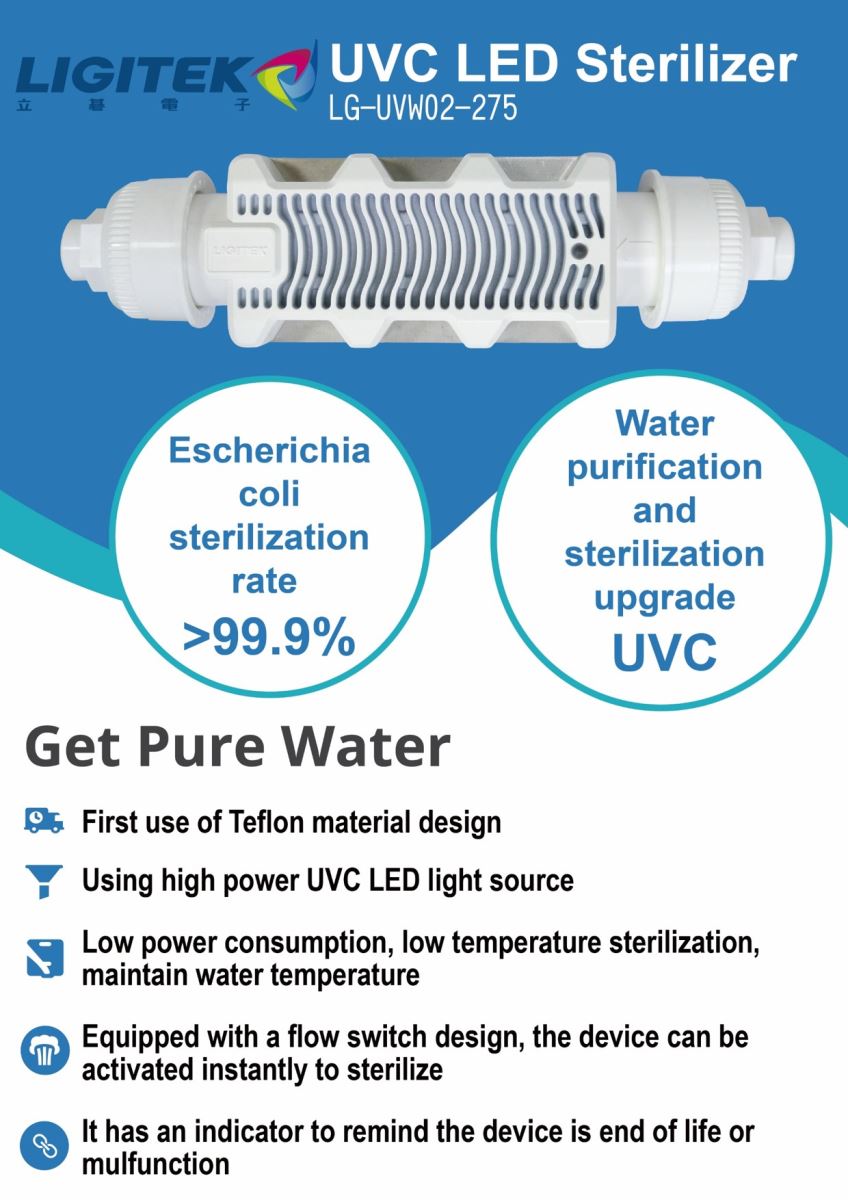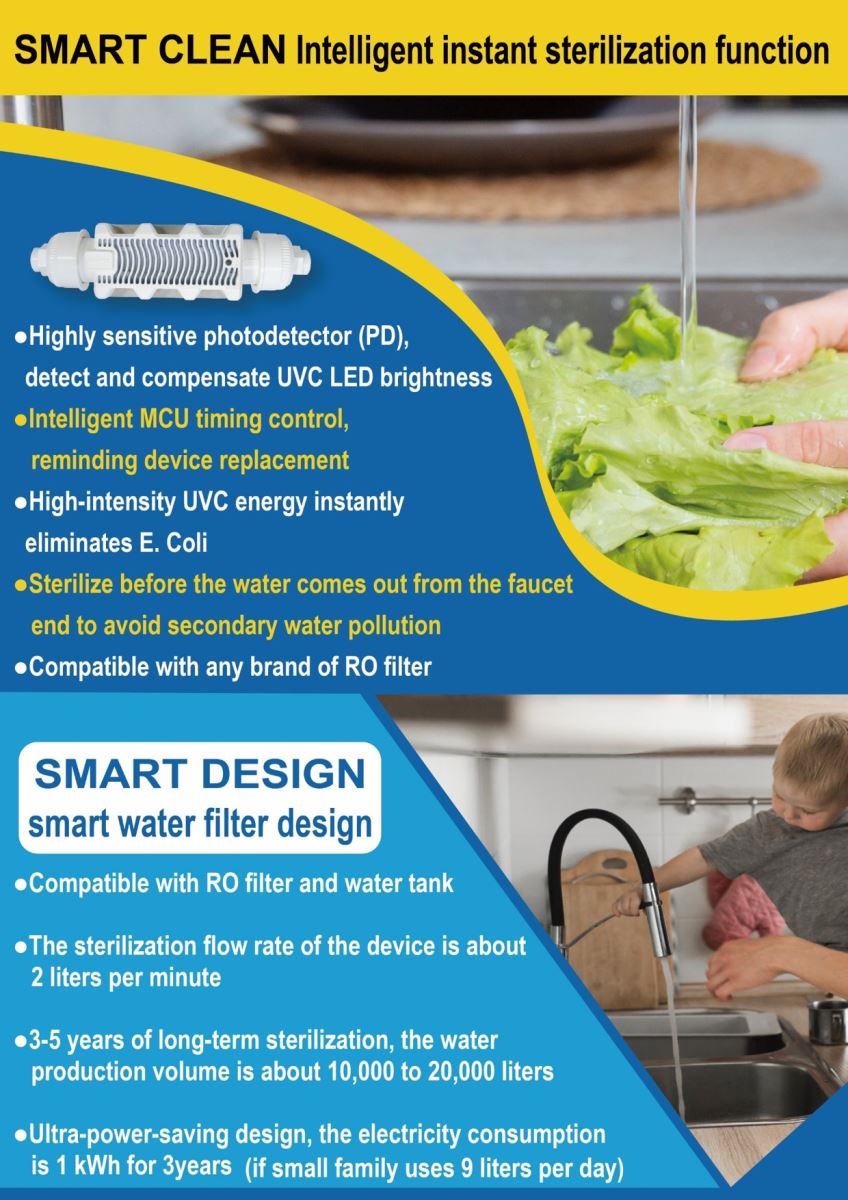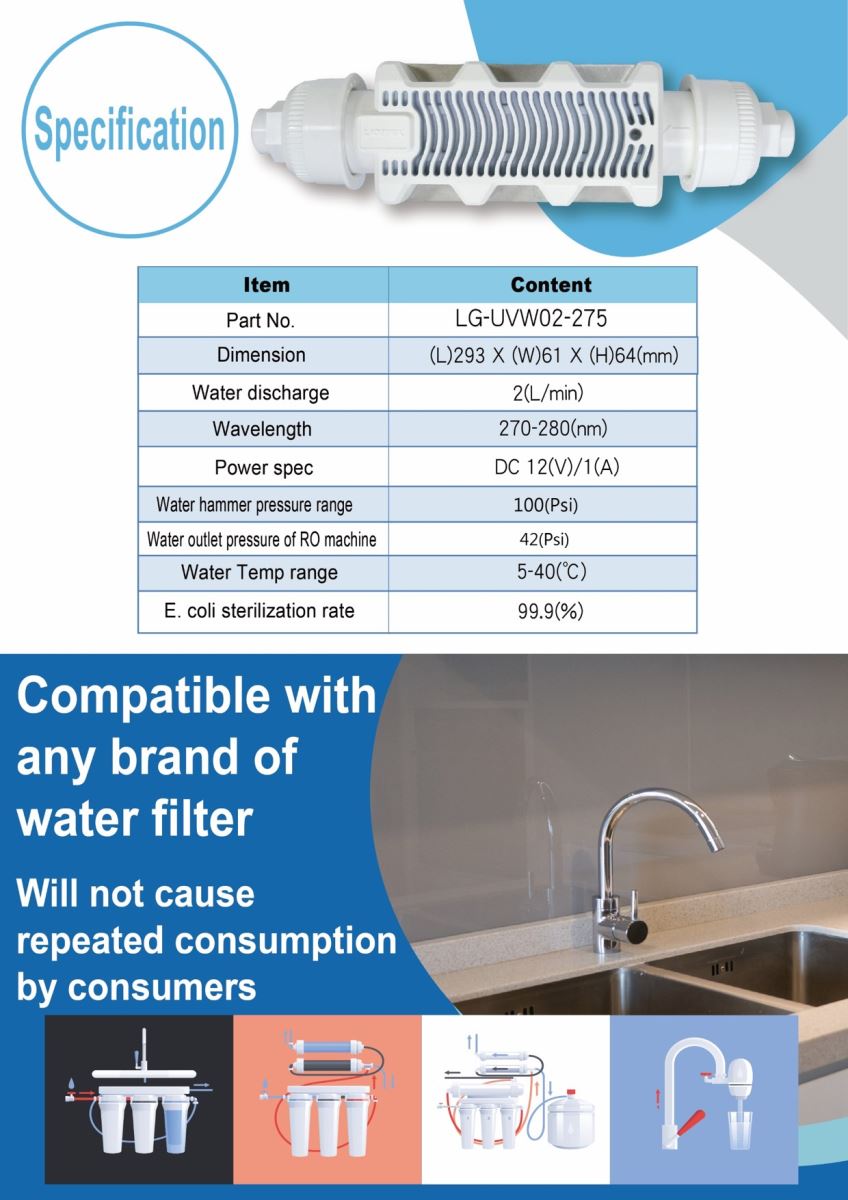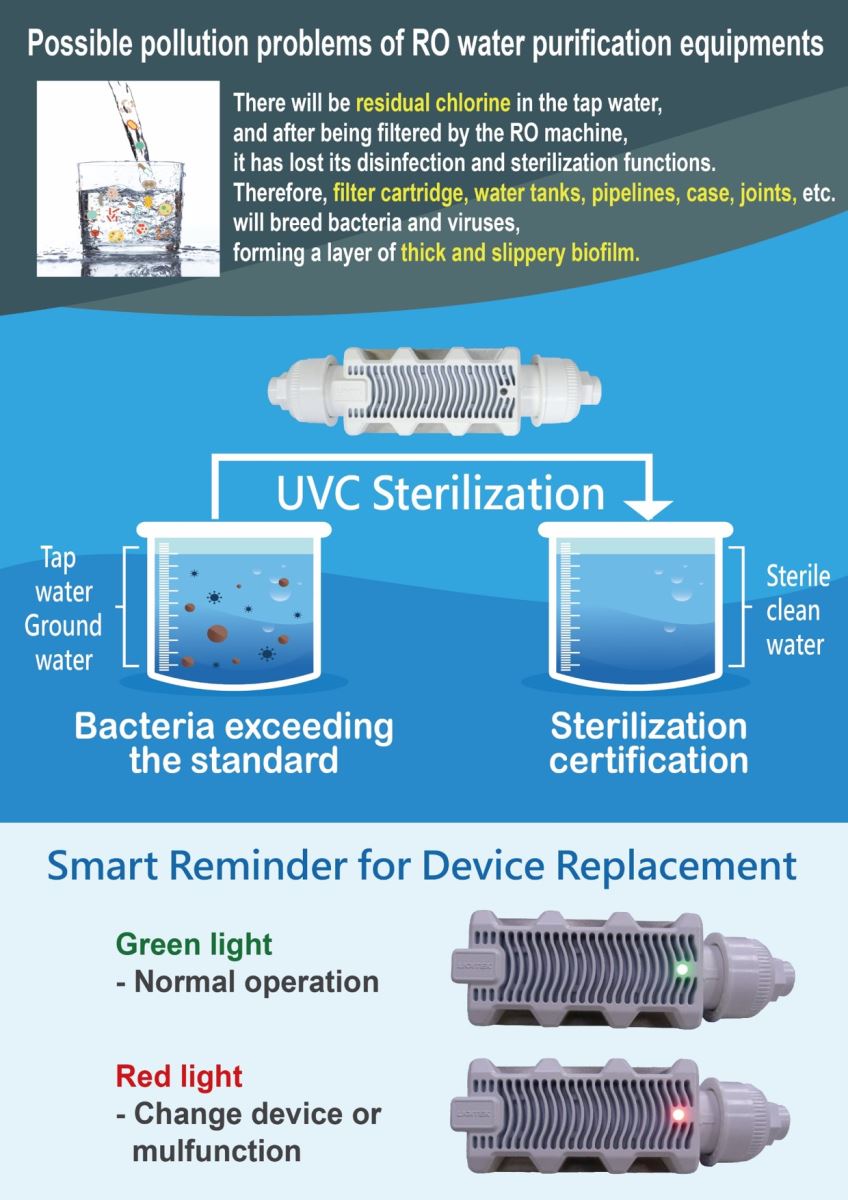 High-energy UVC LED modules which help various traditional water purifiers to upgrade the sterilization.

Ligitek Electronics is the first UVC LED water sterilizer manufacturer in Taiwan to obtain the UVC LED patent certification. The patented UVC LED water sterilizer technology can achieve the strongest sterilization efficiency and eliminate the disadvantages of traditional UV mercury lamps that are harmful to the environment for replace UV mercury lamp, please kindly contact the water purification equipment manufacturer for inquiries.

General water purifiers mainly filter the molecular structure of micro-lead, cyst, turbidity and other pollutants. Traditional water purifiers with Ligitek UVC LED water sterilizer, and UVC high-energy ultraviolet can be further used to destroy the DNA structure and reproduction of tiny bacteria. The safe and stable sterilization energy can reach the international water purification standard. It will not produce any by-products or leave any chemical substances during sterilization. It will be safe to drink.

Ligitek UVC LED water sterilizer advantage: Direct sterilization, low-temperature operation and use, low power consumption, fast lighting sterilization, no chemical hazards in water quality, long-term sterilization and overheating, it is the best choice and replacement for commercial and domestic ultraviolet water purification.

The traditional UV mercury lamp sterilization technology has harmful mercury elements, ozone problems, and long-term lighting, resulting in a short lifetime.
The United Nations has announced a ban on the production, import and export of mercury lamps by contracting parties in 2020. Taiwan also announced an explicit prohibition from January 1, 2021. Therefore, from 2021, the mainstream market is to use UVC LEDs for water sterilization.

At present, Ligitek Electronics is the only professional manufacturer in Taiwan that has obtained the patent of UVC LED ultraviolet water purification module.  Welcome commercial/domestic operators to contact OEM and use Ligitek UVC LED water sterilizer.


►Ligitek Electronics patented UVC LED water sterilizer performance
           Comparison of UV mercury module and Ligitek UVC-LED module
Item

UV

mercury module

UVC-LED module

Power consumption

high

low

Sterilization reaction time

15-20 minutes of preheating

No need for preheating

Sterilization wavelength (nm)

254

275

Bactericidal effect

Medium

Best

Ozone production

Yes

None

Module volume

Big

Small

Mercury content

Mercury (20-200mg)

None

Environmental pollution

Yes

None

Light source manufacturing

No mercury

None

Taste

odor

None
►
Ligitek Electronics' patented UVC LED water sterilizer can be equipped with equipment
All kinds of water purifiers can be equipped with Ligitek's patented UVC LED water sterilizer to solve the problem of bacterial residues in commercial/domestic water purification equipment at one time.
It can be applied to different brands of water filters, water dispensers, commercial coffee machines, sparkling water machines... etc.
►
Ligitek's patented UVC LED water sterilizer advantages
Applicable to various household water purifiers

It can completely eliminate 99.9% of bacteria, viruses and microorganisms in the water

Easy to install

All kinds of traditional water purifiers can be upgraded to high-end UVC LED water sterilizer module

The equipment will not overheat during the sterilization process
►
Ligitek UVC LED water sterilizer is the only patent certification in Taiwan
Ligitek UVC LED module, obtained domestic and foreign invention patents
Patent number: TWI565487/ US9566358B1/ CN106554048B
Ligitek UVC LED water sterilizer has been tested by SGS, and the E. coli sterilization rate reaches 99.9%, as listed below SGS inspection certificate for ref.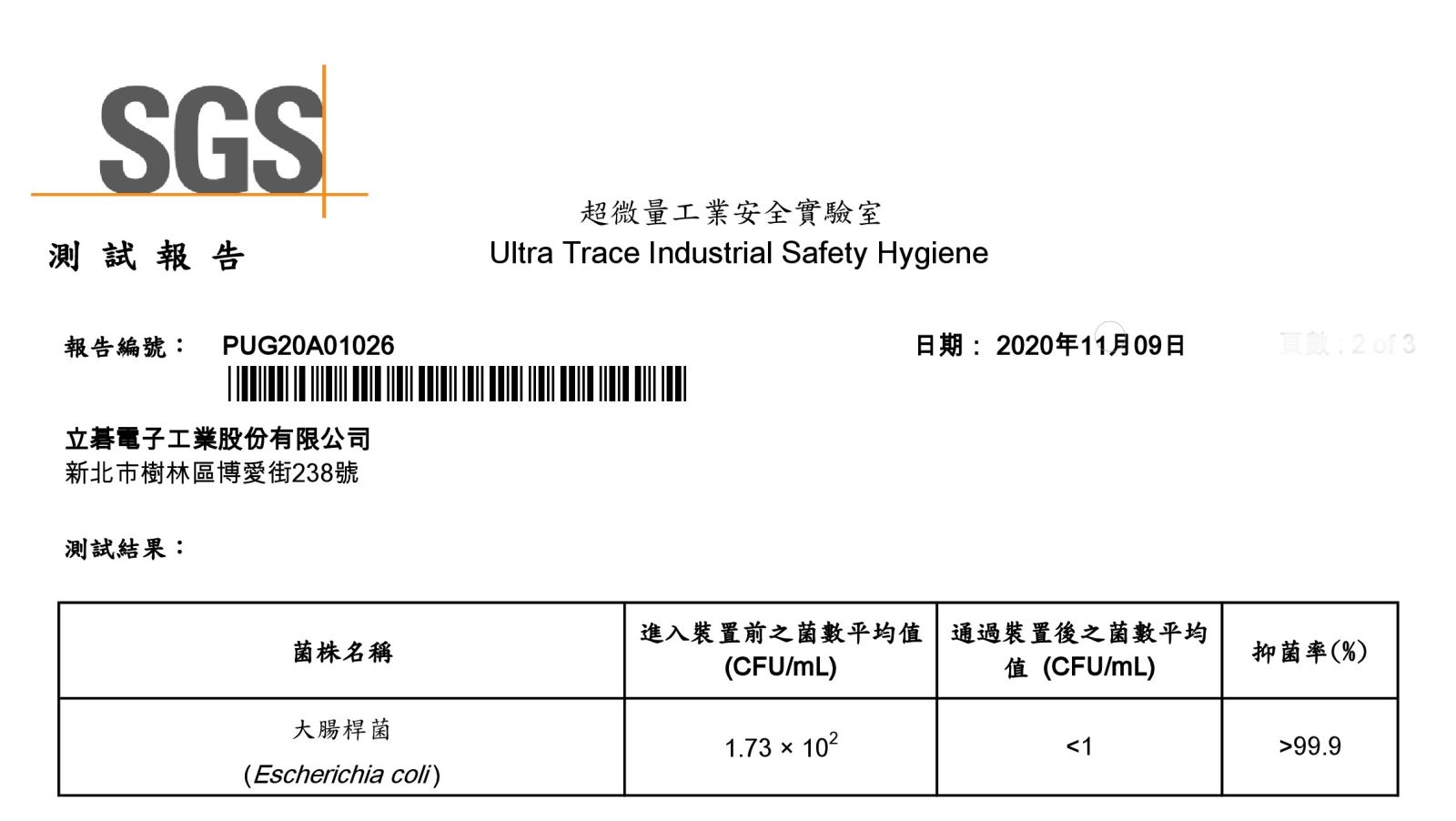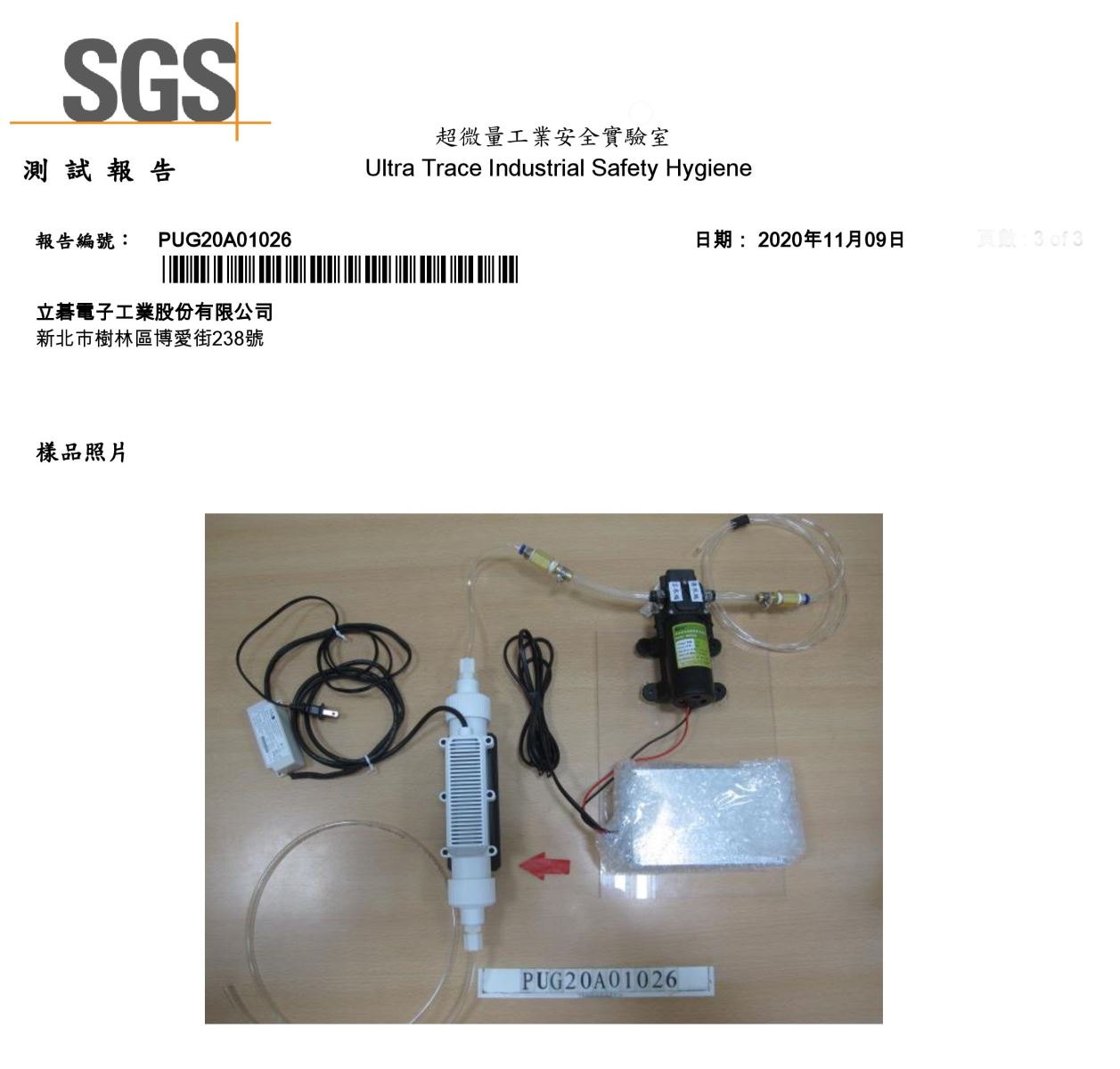 ►
Ligitek UVC LED water sterilizer specification (Made in Taiwan)
Model

LG-UVW02-011U-270

Dimension

(L)250X(W)62X(H)65(mm)

Input voltage

100-240(V)

Power

11(W)

Inlet Pressure

0.1-0.3(MPa)

Inlet flow/recommended flow

0.5(L/min) / 2(L/min)

Piping

1/4''

Applicable sterilization water temperature/applicable environmental temperature

5-40(

℃

)/ 5-35(

℃

)
►
Ligitek UVC LED water sterilizer simple operation and easy DIY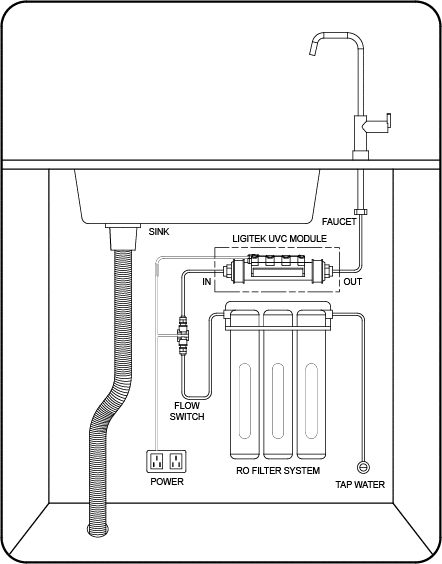 ►
Q&A
Q: What is ultraviolet light?
Answer: Ultraviolet (UV) is a light wave energy source, similar to visible light, which is a major part of sunlight.
Q: Is UV light often used in water purifiers?
Answer: Yes, ultraviolet light was first used for water purification in 1919.         It is recognized as an effective water purification technology that does not use chemicals. It is also often used by food processing plants, beverage companies, bottled water companies, pharmaceutical plants and other companies for purify water in the production process.
Q: What are the harmful bacteria and viruses in the water?
Answer: There may be bacteria in the water such as cholera, dysentery, colon, Salmonella, polio, hepatitis A...etc. Ligitek UVC LED makes tap water under UVC light, destroying the DNA structure of bacteria, unable to reproduce and sterilize.
Q: What is the sterilization principle of Ligitek UVC LED?
Ultraviolet C-wavelength light (UV-C) is a short-wavelength light whose wavelength is between X-ray and visible light. It can destroy the DNA of microorganisms in a few seconds. Without functional DNA, these microorganisms cannot copy or make you sick.
The R&D team of Ligitek Electronics keeps improving its technology and is committed to the development and production of high-quality UVC LED sterilization application modules. If company is interested in OEM UV water purification / purification equipment very welcome to contact with us.
Tel: 886-2-77036000 ext. 6190 or 6128